Polyamorous NYC's
polyamory pride weekend
happened this past weekend, and I'm still flying high on the incredible energy that typified every single experience I had there. I have to say right up front what a fantastic job Polyamorous NYC did in organizing and producing this event. Producer Lyndell Moore (in picture to the right, second from the left) deserves big props, as does Poly NYC president Birgitte Philippides (far left), under whose capable and dedicated leadership this event spread its wings and soared, along with the support of founder Justen Michael Bennett-Maccubbin (3rd from the left) and all of the committee members who together created a weekend I'll always remember.
The event spawned press coverage both in the
New York Times
and the
New York Post
, plus interest from others like a free-lance film maker who gathered footage to support a poly documentary pitch to HBO and who interviewed many speakers and attendees at the Saturday afternoon rally and picnic.
Polyamory Weekly
podcaster Cunningminx was also there, and it was a great pleasure to both meet her (finally!) and once again be interviewed for the podcast. (See picture of Minx and me above.) You can hear Minx's podcast coverage part one of two of the event and my interview (28 minutes in)
here
. And of course, Alan M. of
Polyamory in the News
was also there documenting the day's events.
I also had the honor of introducing to one another two of this year's new poly book authors,
Tristan Taormino
and
Jenny Block
, with me at left. Also it was the first time Jenny and I have met, though we've been on-line friends and collaborators for many months now.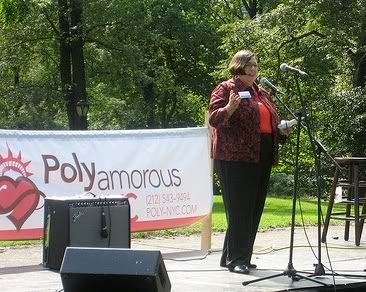 Here's a picture of me (taken by Minx - thanks, Minx!) on the podium where I spoke about
The Mainstreaming of Polyamory
.
Entertainment at the rally was outstanding. I esp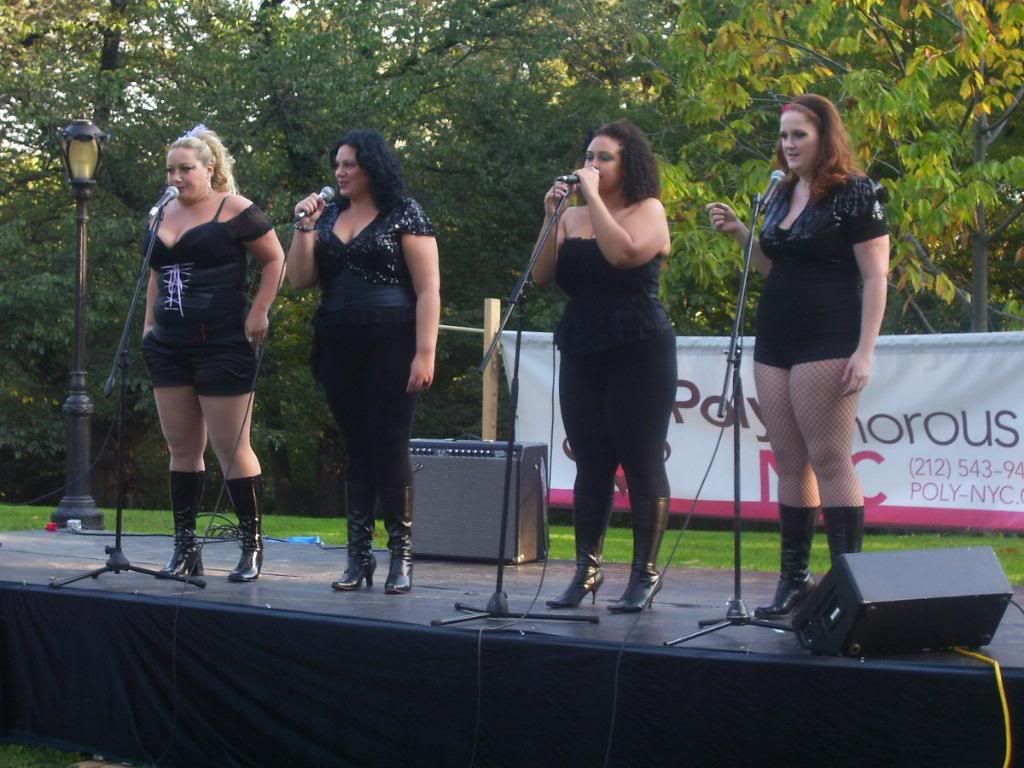 ecially enjoyed America's Got Talent competitors the
Glamazons
- four sassy big women pictured here who are the stuff of many a wet dream - and the Raven Schecter trio who were both polished and hilarious. Here's a piece of their performance also recorded by Minx.
You can find a complete list of the speakers and performers
here
, and, not surprisingly, Tristan Taormino's keynote address was both entertaining and inspiring. I especially appreciated her call for the Same-Sex Marriage Movement to stop "throwing polyamory under the bus." What she is referring to is the ill-advised distancing from polyamory the SSM leadership does - primarily its leader, Evan Wolfson - in order to avoid any confirmation that
Stanley Kurtz's slippery slope
actually exists - which it does as multi-partner marriage is concerned. Politically expedient or not, that practice is unethical and discriminatory.
OK, down off my soap box and on with Poly Pride events review.
And that, so far, is just what I had to tell you regarding the picnic and rally, which was the feature event of the weekend. In addition to that, there was a Friday night cuddle party, the largest held anywhere ever, with over 110 people in attendance.
On Saturday night there was an awesome after party held in a classy loft space overlooking the Hudson River. There was a great DJ and a steady stream of performers from the vamping drag performers the
Pixie Harlots
to talented burlesque performer
Nasty Canasta
And as if all that weren't enough, Sunday morning brought us a fabulous poly book authors reading and signing event where nine authors read from their works. It was held at the
Blue Stockings
radical book store in the east Village, and the room was packed - clearly the late partiers didn't let anything stop them from soaking up all that poly wisdom.
Lastly, 34 poly leaders, activists and community organizers gathered for a well-facilitated summit on polyamory activism during which there was a great exchange of ideas that sparked synergy that I look forward to sharing and building on in the days, weeks and months ahead. The next poly leadership summit will be held on Monday, March 2, 2009, following the
Poly Living
conference to be held the previous weekend, February 27 to March 1 in the Philadelphia suburbs.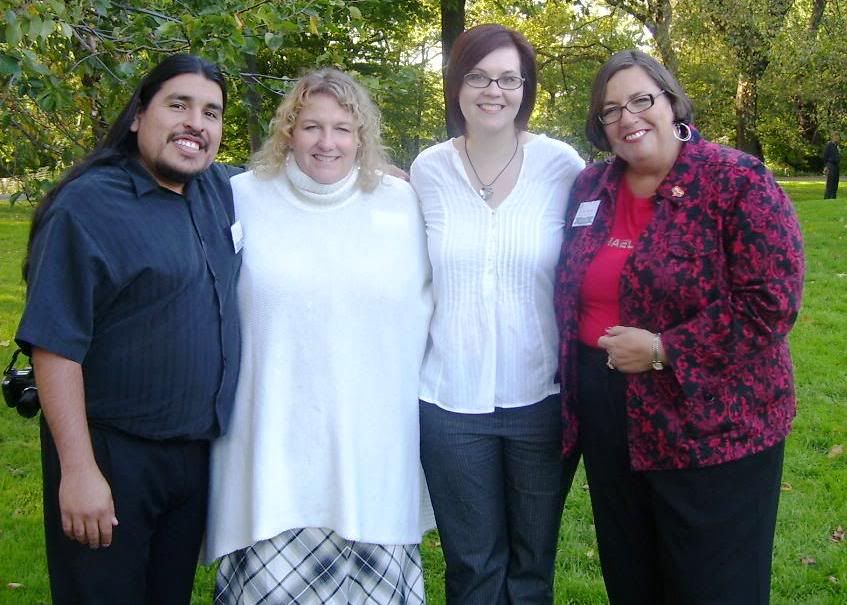 Poly Living is put on by the Loving More organization, which was well represented at poly pride weekend by Loving More Managing Director Robyn Trask and her partner Jesus Garcia. (Pictured here with Tristan Taormino and myself.) One of the biggest benefits to the polyamory community of this poly pride weekend is that many of the priorities recognized at the leadership summit are also priorities
Loving More
has already been pursuing. There was so much enthusiasm from those gathered for helping Loving More to move those projects along that Loving More will benefit and so will the polyamory community.
Whew! Once again, I can't thank Poly-NYC enough for all their hard work in putting on this historic polyamory pride event. Years from now it will be seen as a time when polyamory in all its colors and shapes and sizes took a big step forward toward becoming the legitimate, vibrant and gratifying choice in intimate relationship structure that it truly is.